Jimmy Uso
Jimmy Uso is the proud wrestler husband of female WWE superstar, Trinity Fatu aka Naomi –who recently became the Smackdown Women's title champ.
Jimmy's wife defeated every available woman on the SmackDown roster to become the new SmackDown Women's champion Sunday at WrestleMania 33. She previously had to relinquish the SmackDown women's title shortly after beating Bliss at Elimination Chamber in February.
The Florida native was born to entertain and she first had her opportunity in showbiz as a hip hop dancer. She performed everywhere from North Korea to Indonesia with the likes of Flo Rida. The athletic beauty is also a former NBA's Orlando Magic dancer.
Looking for new competitive opportunities she next had her wrestling debut as a contestant on WWE NXT in 2009. Since then she has been working her way up, first under the tutelage of Kelly Kelly and later making her main roster debut joining Cameron in forming The Funkadactyls. In 2015 she also formed the trio Team B.A.D –along with Sasha Banks.
Naomi's career in WWE has sure been exciting, she also appeared on E!' reality Total Divas and is married to non other than Samoan wrestler, Jonathan Fatu.
Naomi who was born Trinity McCray on November 30, 1987, is also part of the legendary Samoan Anoa'i family through her marriage to Fatu, best known as one of half of tag team, The Usos –along with his twin brother, Jey Uso.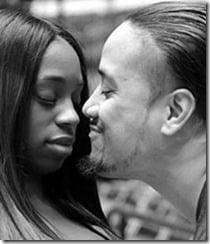 Jimmy Uso and Naomi were in a relationship for a long time before they tied the knot on January 16, 2014. Thus becoming officially, the stepmother to his two children, Jayla and Jaidan –born from his relationship with former girlfriend, Jessica.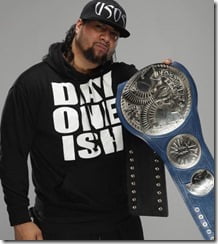 Jimmy Uso and his brother are the current Tag Team Champion. Born Jonathan Solofa Fatu on August 22, 1985 in San Francisco, California, he and his brother are the sons of former WWE star Rikishi.
His bloodline includes such WWE Hall of Fame legends as his father Rikishi and great uncles The Wild Samoans, as well as "The Most Electrifying Man in All of Entertainment," The Rock.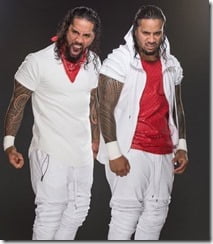 To talk about Jimmy is to talk about his identical twin brother Jey Uso, real name Joshua Samuel Fatu.
Trained from a young age by his father, Jimmy and his brother made their wrestling debut out of WWE's developmental brand Florida Championship Wrestling in 2009.
The 6 ft 2 in, 240 lbs wrestler champ has also been in trouble with the law, back in 2011 he was arrested for DUI.
In 2012 Pro Wrestling Illustrated ranked Jimmy #92 of the top 500 singles wrestlers in the PWI 500. In 2014 he and Jey captured the Tag Team Championship twice and were awarded the Tag Team of the Year in 2014 and 2015. The twins became Smackdown Tag Team Champions for the first time earlier this year.
Between Jimmy and Naomi they have over two million followers on Instagram alone; they are certainly one of the most famous wrestling couples in WWE.
You can follow Jimmy Uso on Twitter here, Instagram here.