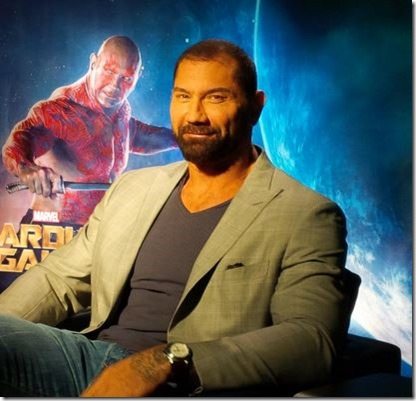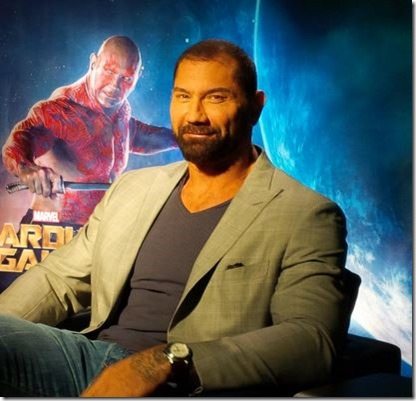 Last night took place the world premiere of Marvel's Guardians of the Galaxy, featuring Dave Batista as Drax, Bradley Cooper as Rocket and of course Vin Diesel as Groot. Who better to play a kick--super-villain than pro wrestler Dave Batista! Character and real life Dave almost have the same abilities including -Superhuman strength, stamina, speed and durability
Energy blasts, Highly skilled in use of knives, Ability to sense Thanos' location, Psychic detection of others –well maybe not exactly the same abilities but Batista –in real life –is a six-time world champion, winning the World Heavyweight Championship four times and the WWE Championship twice. He is the longest-reigning World Heavyweight Champion in WWE history, and has won the World Tag Team Championship three times among other super amazing titles.
We want to take a moment to remind you more about the great Dave. The now 45-year-old also can add acting to his outstanding resume and he's been pretty busy promoting Marvel's Guardians of the Galaxy.
Born David Michael Bautista Jr. on January 18, 1969, he knew early on his life was linked to entertainment. He pushed himself to achieve his dream of being a Superstar. In May 2002, he made his debut on SmackDown but it wasn't until a move to Raw and two victories over Kane that "The Animal" began to make noise in the WWE Universe.
Wives
In the early 1990s he tied the knot Glenda Batista with whom he fathered two children, daughters Keilani born in 1990 and Athena born in 1992. The couple ended in divorce and there is not much info about Glenda.
In 1998 he wedded second wife Angie (pictured below). He also divorced from her in 2006.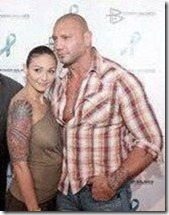 His former wife Angie is currently in a battle with Ovarian cancer. She is now in her 3rd year of remission. He made the video below for her, the video also features his mother and daughter Athena.
Girlfriends
Following his divorce from second wife Batista has been in a few relationships.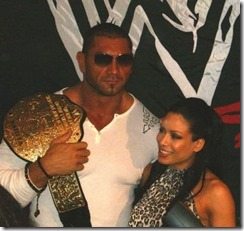 He revealed being romantically involved with at least three WWE Divas, including Melina Perez, Kelly Kelly and Rosa Mendes. Above we can see a picture of him and Melina Perez.
Daughters
Alleged daughter Keilani (pictured below) is a mother of two children, Jacob and Aidan making Batista a grandfather before the age of 40. Find her on Facebook here and on Twitter here.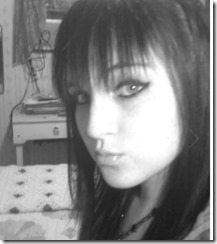 In 2010 daughter Athena (pictured below) allegedly made a tape.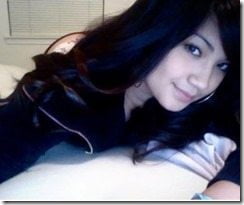 Athena's tape snippets surfaced online on a web site called World Star Hip Hop. Athena Batista, then 18, is seen performing oral on a guy who is billed her boyfriend Justin Miller, as well as having actual intercourse with him.
Athena graduated in 2009 from Sickles High School in Tampa, Florida just like her sister did three years earlier. She enjoys listening to the Cure, Metro Station, Yeah Yeah Yeahs, Brand New, The Higher, Metro Station, The Cure, 3OH!3, Pauly Crush,The Killers, Red Hot Chili Peppers, Anberlin, Official Blink-182, Lil Wayne among others. Find Athena on Twitter here.
You can find their famous dad on Twitter here and on Facebook here.