Jamie Gall
Jamie Gall is the sister of MMA fighter Mickey Gall. The 5'11" welterweight fighter from New Brunswick, New Jersey who faced former WWE wrestler CM Punk at UFC 203.
Jamie's big brother Mickey was born January 22, 1992 in Jersey. He is training with the Miller Brothers MMA.
In brief, Mickey started his professional career at CFFC 32 on February 22, 2014 when he defeated Woodmy Jean by unanimous decision, he defeated Marvin Nino by submission at Dead Serious' event Dead Serious 15 on May 30, 2015 and defeated Ron Templeton at Dead Serious 17 by submission on November 21.
He signed subsequently with the UFC early this year, he UFC debut came at UFC Fight Night 82- Hendricks v. Thompson when he defeated Mike Jackson by submission on February 6th.
Gall has three beautiful sisters, Ryan, Kayla and our girl Jamie Gall.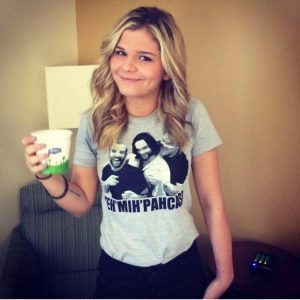 Jamie like her big brother is a mixed martial arts fighter. Ms. Gall was born in Green Brook, NJ and currently resides in Hattiesburg, Mississippi.
She was educated at Watchung Hills Regional High School and started her training at Gracie Jiu-Jitsu.