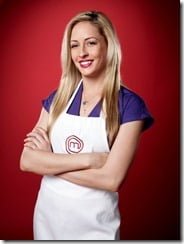 Ivan Brannan's former girlfriend is Christine Corley, top contestant at Fox's hit show Gordon Ramsey's MasterChef. She is accusing him of being a "master manipulator" and that she did the same thing that he is doing to the tennis pro Jennifer Capriati.
Brannan is accusing Capriati of beating him up and that she stalked him for a year. Brannan and Capriati allegedly got into an argument on Feb. 14 at a gym in Palm Beach, Florida, where he said she hit his chest several times. Brannan called 911. Capriati's lawyer stated that the police report is "one-sided" and an "over-exaggeration".
However, Brannan's former girlfriend, Christine Corley, is saying to Capriati's defense, that he also tried to accuse her for an attack. The MasterChef contestant showed her support to Capriati via Twitter saying that her ex Brannan had also called the police on her, saying that she had also assaulted and stalked him. She told Gossip Extra:
"He is doing to Jennifer Capriati what he did to me. When I read your story about this, it made me feel like I'm not crazy." She added "This man is just a master manipulator who goes from woman to woman to get some money….or access to the best parties in town. He'd disappear for months at a time and come back when he needed more money."
Christine Corley was born on April 11, 1983. She has a three-year-old son with 28-year-old Brannan. According to her Twitter profile, she is a Loving Single Mom, Finalist on MasterChef on FOX, Passionate Foodie, Traveler, Music/Art Lover.
"I have not doubt he is with Jennifer for her money, and when he is done with her, he tries to get rid of her by any means he can find. Including by getting police involved," Corley added.  "He accused me several times of beating him, but no charges were ever filed because police knew if was not true."
Follow Christine on Twitter here. Take a look at Christine's MasterChef Facebook page here. Find her LinkedIn profile here.