Torie Porter
Meet Ms. Torie Porter; she is the ex-girlfriend and baby-mama of former NFL player Mario Williams. 6'7″ Williams played defensive end with the Houston Texans, Buffalo Bills and the Miami Dolphins.
Prior to that, he played college football at North Carolina State. Became he first overall selection drafted by the Houston Texans in the first round of the 2006 NFL Draft.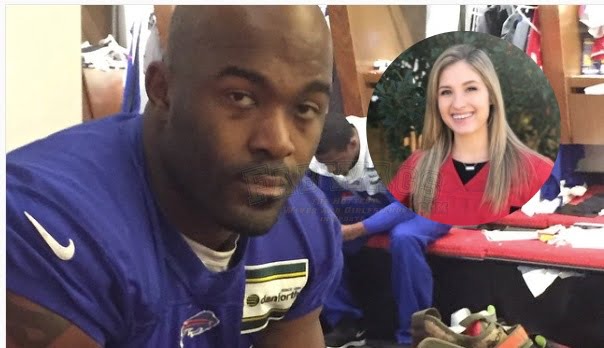 Torie Porter is the momma of Mario's three-year-old son Mario Jr. who was born according to their baby registry on June 10, 2016, in Houston, Texas.
24-year-old Torie was born Torie Lee Porter on April 8, 1995. She is a treatment coordinator at Katy Orthodontics in Katy, Houston.
It looks like these two are no longer together and sadly, they are not in the best terms; Torie, initially filed a restraining order against Mario in May.
Moreover, on August 20, came his arrest for criminal trespassing; Mario allegedly entered her Katy's home without her permission. He was arrested on a $100 bond and ordered to mental health or intellectual disability assessment.
TMZ, got their hands on the video that shows the altercation between Mario and Torie when she finds him inside her garage.
Furthermore, Williams accused Torie of using their son's iPad to gain access to his iCloud, she denies his allegations.
According to a reader who send us a tip, Torie and Mario are in the middle of a custody battle; she hacked thinking he was asleep to download any thing she could use on her behalf on their case
The same reader said months ago Torie was allegedly web camming some nasty stuff, without his knowledge and while they lived together. She promised him never to  do it again and Mario said they would worked through it.
"So after a few eavesdropped conversations and asking several questions, I have some inside scoop on ex football player Mario Williams and his recent baby mama drama.

Apparently the woman he has a baby with, her name is Torie Porter and she's 24 years old. Months ago online web cammin; basically doing internet and was getting paid for it. The crazy thing is she started her online prostitution business unbeknownst to him; while still living with him in his mansion in Houston.

From my understanding they attempted to work through this, with her promising to never webcam again, but she relapsed and restarted her business again. Once he discovered this info; they started a nasty custody battle which is why she hacked into his iCloud and other devices when she thought he was asleep to download any information that would help her case.

This leads to the recently leaked video of him at her place because he happened to be up and got notices of the breach, which is why he went to her place upset and wanted to retrieve his sons iPad because that's how she hacked into his account.

Since she has been found out, she continually changes the name and opens new web cam accounts after a few streams in hopes of not getting caught; but I was able to get a few of the accounts she has used for her online prostitution business including the initial one she started with earlier this year.
Photos: Torie's Facebook profile.