Whoa! Cheating alert! Was Lindsey Vonn just caught cheating on boyfriend Tiger Woods?! The stunning Olympic skier, 28, was spotted locking lips with someone other than the world's top golfer, 37, just a few weeks ago, according to a new report.
Earlier this years on March 2013, we found out both athletes were an item, Vonn has been a major supporter of Woods appearing at several events throughout his tour.
She was married to fellow Olympian skier Thomas Vonn, they tied the knot in 2007 but after only four years of marriage they decided to split; their divorce was finalized in Jan 2013 giving Vonn the legal freedom to start a new relationship. That's were Tiger gets in the picture.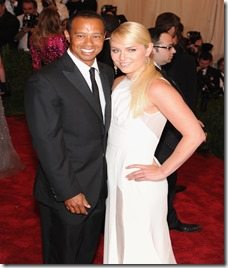 Woods who's golfing skills and cheating ways have been equally notorious could be getting a taste of his own medicine, according to The Nationa Enquirer; the blonde allegedly hooked up with an "older hunk" while being a Justin Timberlake and Jay Z concert in Miami, just a few weeks ago!
Apparently the mysterious man is from the "SexyBack" JT's tour. The skiing champ was spotted with friends and cocktails in hand so she "threw herself into his arms and started on a long session of deep kissing that went on for several minutes. He was a tall, good-looking, in his mid-40s, with graying temples."
Vonn who was in Miami for a "LVTakesMiami" promotion and photo session for sponsor Red Bull, later tweeted
"Wow that was amazing! Best concert I've ever been to!"
Someone had fun for sure! This all went down on Aug. 16, the source continued to say
"Lindsey is not a nun," "She's a very physical, very attractive young woman with a very strong athlete's ego. She wants her own fame – not his. Now it looks like she's checking out the field."
Very true indeed. Guess karma always comes back to bite you…..right Tiger!
Did you see this coming?
Follow Lindsey on twitter here and maybe we'll find out who that mystery "hunk" is!